Cross Selling Product
Cross-selling helps encourage customers to purchase products or services in addition to the original items they intended to purchase. One of the best ways to increase your store's revenue without increasing traffic is by boosting your store's average order value. Let's take a look at the features that this extension gives us.
Key features of the extension:
Show up to 15 items and more per page to cross-sell.
1-click the "Add To Cart" button for cross-sell.
Highly customizable text/images, items box, product price and more.
Multiple animations for "Add To Cart" button.
Allow products with variants.
1. How to install/add the Cross Selling Product extension?
First, we'll need to open the Extension popup, you have two ways:
Click on the Extension icon at the top left corner.
Under the Extension tab, click Add more.
On the Extension popup, you can see the Cross Selling Product extension, click Install now to install it right the way.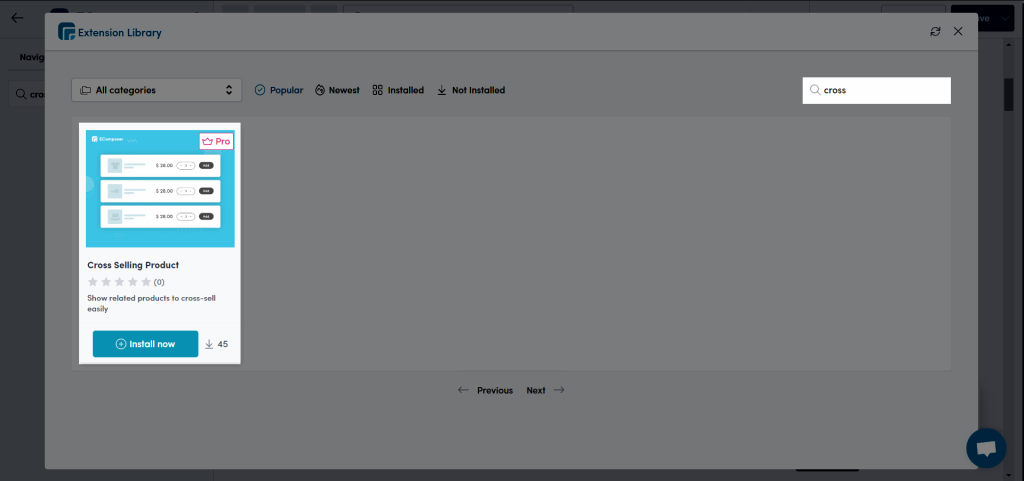 Adding the Extension is really easy, all you need to do is drag and drop.
2. Configuring the extension
2.1. Content
You can select the products to add them here (The added products will stay the same for every product page). You can also change the Add to cart/Added to cart/Product is not available text and Icon settings like Icon image, Icon position and Icon spacing. The option to disable the button animation is also here.
2.2. Design
Design have a couple of tabs for you to customize:
General tabs allows you to change the background color, create box shadow and border for the extension.
Items box have settings such as Item vertical alignment, Changing color of the item boxes in different state and more.
Product image gives you option to change the height, width, alignment and more which is covered here.
Product title, Product price, Variant select, Button have very similar settings and are explained here.
2.3. Advanced
This tabs have been very well documented here.