EComposer Affiliate
This guide shows you: How to Sign Up & Track EComposer Affiliate
If you are looking for a way to earn recurring monthly commission by spreading a good tool to your friends & audiences, then the EComposer Affiliate Program might be the perfect fit for you! As an affiliate, you can promote EComposer, a leading Shopify Page Builder app, and earn commissions for every successful referral you make. In this article, we will walk you through the process of signing up for the EComposer Affiliate Program, utilizing promotional materials, and tracking your affiliate results.
EComposer Affiliate Program
The EComposer Affiliate Program is a fantastic opportunity for individuals who are passionate about music and want to earn income by promoting EComposer. Whether you are a music blogger, a social media influencer, a music teacher, or anyone else with a love for music, you can join the EComposer Affiliate Program and start earning commissions for every sale you generate.
Who Can Join
The EComposer Affiliate Program is open to anyone who is interested in promoting EComposer and is willing to abide by the program's terms and conditions. Whether you have a website, a blog, a social media following, or any other platform to promote EComposer, you can join the affiliate program and start earning commissions.
Highly recommend Ecomposer users to join this program since you're the best fit to speed out what you've used.
Commission Structure
As an EComposer affiliate, you can earn a commission for every successful referral you make. The commission structure is simple and rewarding.
For every sign up you made, you will earn a 50% commission on the first month, 20% lifetime from the 2nd month.
If your referred users subscribe yearly plan: You will get 20% yearly commissions.
The more & the longer customers you refer, the more commissions you can earn!
See EComposer pricing plans to know your commission potential.
Payout
EComposer Affiliate Program pays commissions on a monthly basis. Payments are made via PayPal, which is a convenient and secure method to receive your commissions. You will receive payouts for the new users you refer 30 days after they sign up on a paid EComposer plan. (in other words, only after EComposer got paid by your referred users, you will get the commission payouts)
How to Sign Up for EComposer Affiliate
Signing up for the EComposer Affiliate Program is easy and straightforward. Follow these simple steps to get started:
Step 1: Visit the EComposer Affiliate Program page
Click on the "Apply Now" button to begin the registration process.
Or click this link to go to registration page.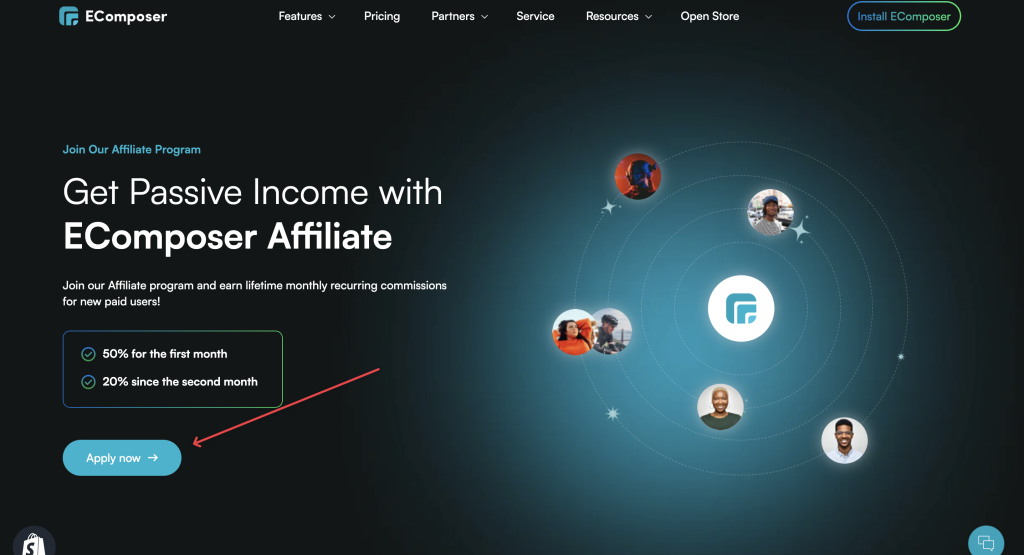 Step 2: Fill out the required information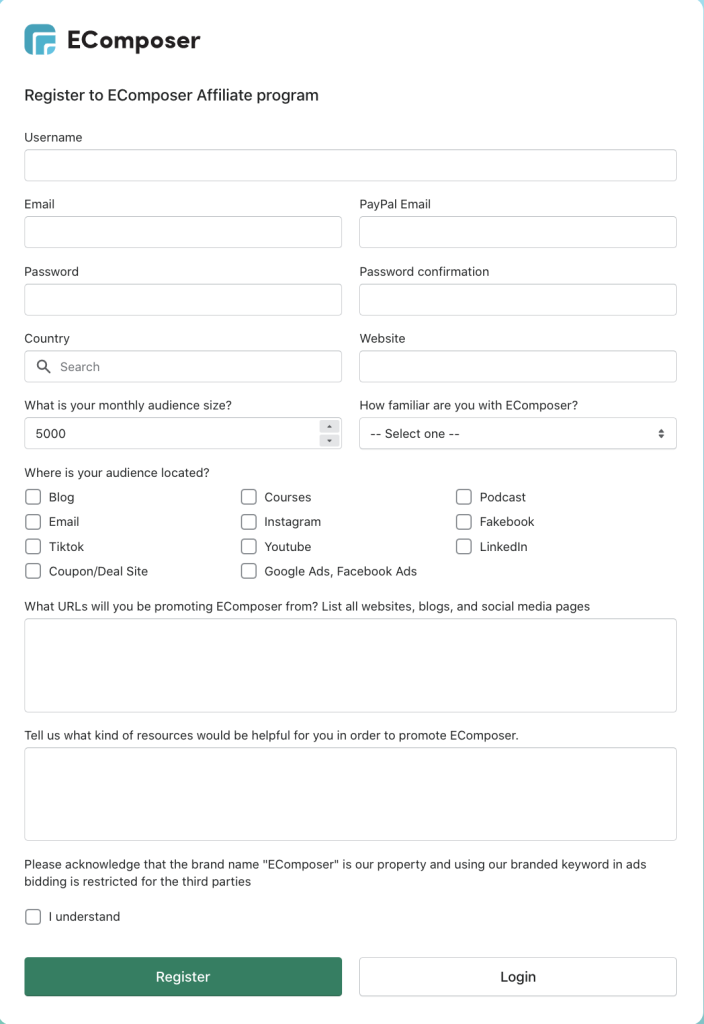 Step 3: Agree to the program's terms and conditions by checking the box "I understand".
Step 4: Click on the "Register" button to complete the registration process.
Click "Login" if you already had ECompoer Affiliate account
Step 5: Once your registration is complete, you will receive a confirmation email with further instructions on how to access your affiliate account. Basically, your account is approved manually within 24 hours. Email approval will be sent you to then.
Note: After registering for the Affiliate program, please verify in your email and then open this link on a new Incognito window to login to your account
How to Utilize EComposer Promotional Materials
As an EComposer affiliate, you will have access to a variety of promotional materials that you can use to promote EComposer and increase your referral sales. To download our promotional materials, open EComposer app dashboard, click "Download" at the Affiliate dashboard: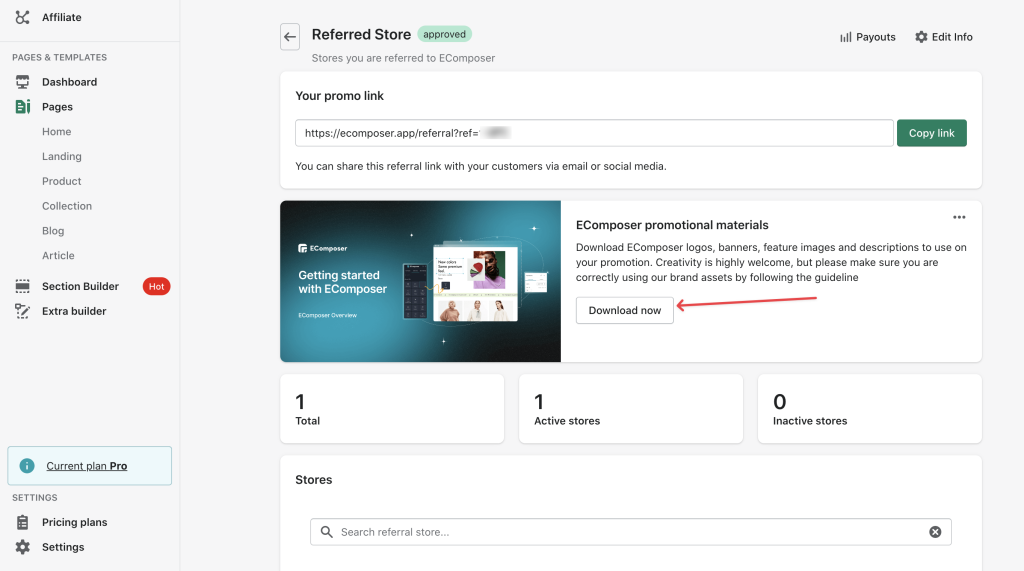 The downloaded file will look like this: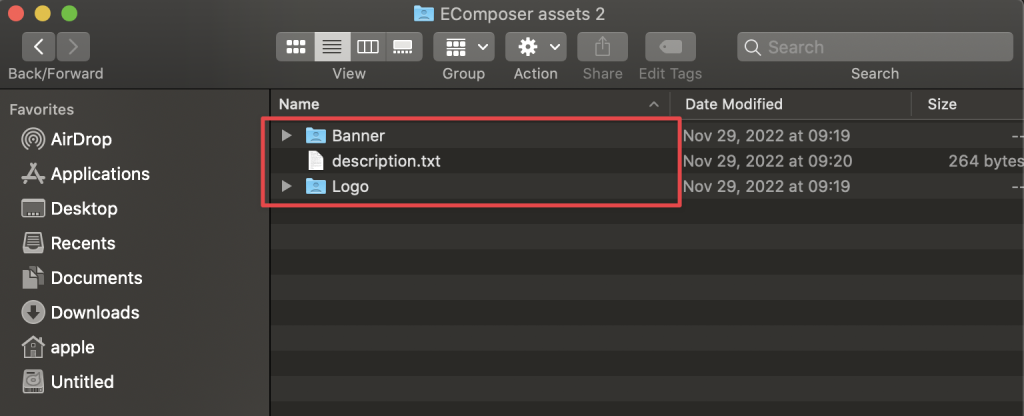 Here's how you can utilize them:
Banners: You can place EComposer banners on your website, blog, or social media profiles to attract the attention of your audience and encourage them to click on your referral link.
Logo: You can insert EComposer logo in your self-designed banners, on your website or other promotional content to direct your audience to EComposer's website through your referral link.
Description: You can use this long and short description to highlight the features and benefits of EComposer at any of your available channels. However, we recommend paraphrasing, rewriting it to your own languages and use it uniquely in different channels.
Other Marketing Assets: You can look at additional marketing assets from our all channels:
– Website
– Facebook group
Tracking Your Affiliate Results
Once you have signed up for the EComposer Affiliate Program and started promoting EComposer, it's essential to track your affiliate results to monitor your performance and earnings. EComposer provides a user-friendly affiliate dashboard that allows you to see all signed-up stores.
Total: total number of EComposer sign-up stores via your referral link
Active stores: Signed up stores that are currently active
Inactive stores: Signed up stores that are currently inactive (closed store, frozen store)
Below three metrics are the store list with its details.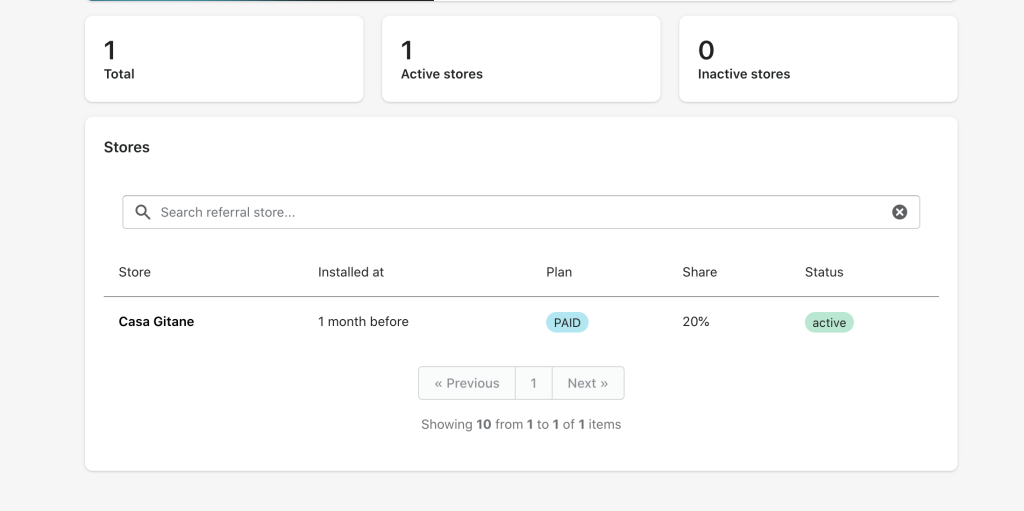 Manage your payouts (commission payments)
Payouts (payments) are your EComposer commissions paid on monthly basis. See all transactions to your Papal account here.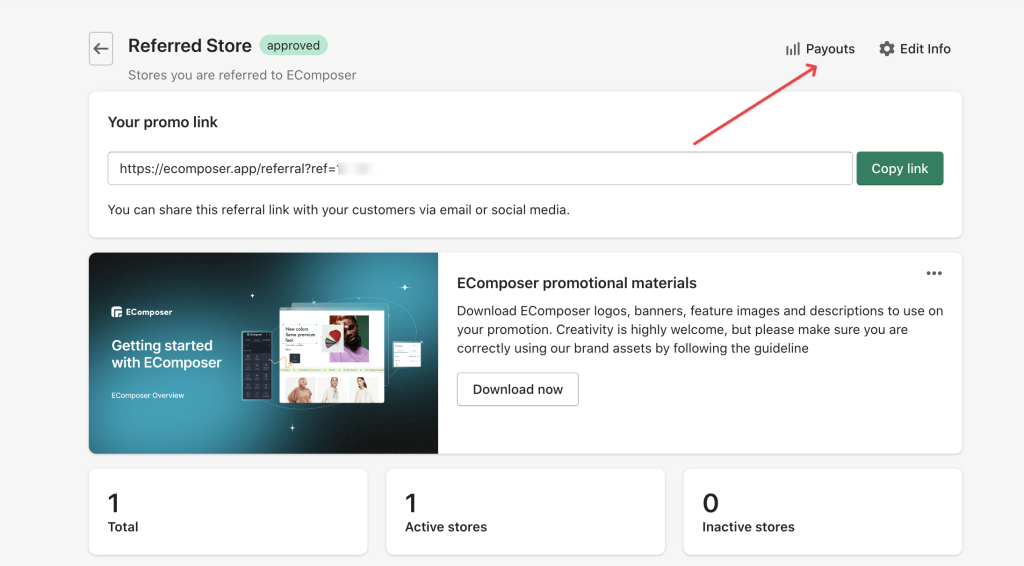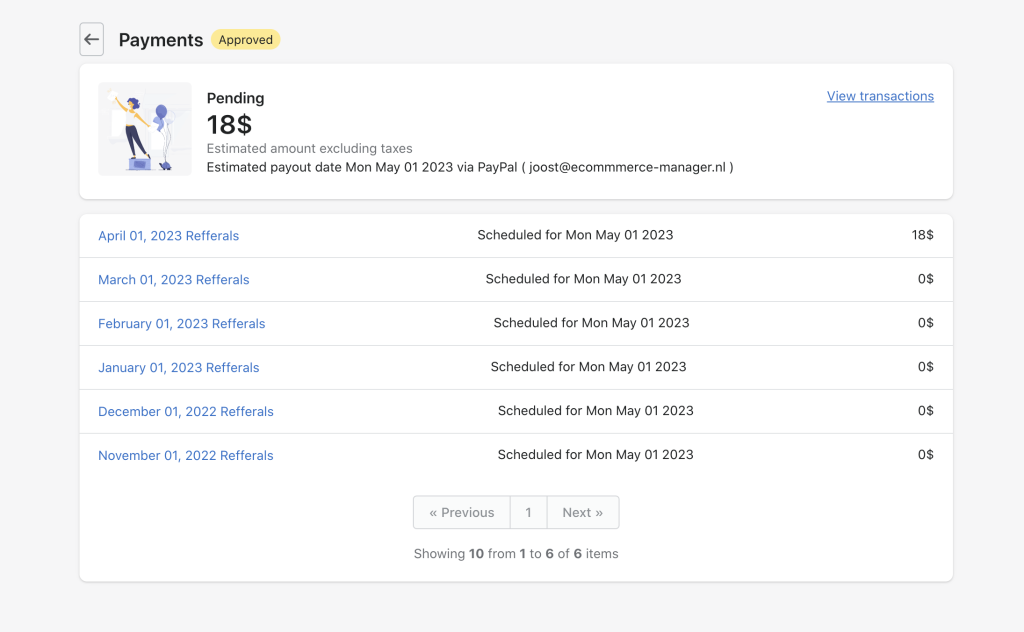 Edit your Affiliate account
Click "Edit info" at top right Affiliate dashboard. You can update your Affiliate account, including Business name, Email, Paypal email, Affiliate link.