Shopify Markets
Shopify Markets helps merchants expand their business to a global audience by creating shopping experiences in local languages and currencies. It is a cross-border management tool that helps you identify, set up, launch, optimize, and manage your international markets – all from a single store.
Shopify Markets centralizes international selling tools for your business to help you manage and expand your global sales. With Shopify Markets, you can create customized online shopping experiences for different customer segments. You can create markets in Shopify to target specific countries or regions, or you can group countries and regions together to simplify your expansion efforts.
EComposer is integrated with Shopify markets to help our users customize their web pages for different countries/regions right on EComposer editor.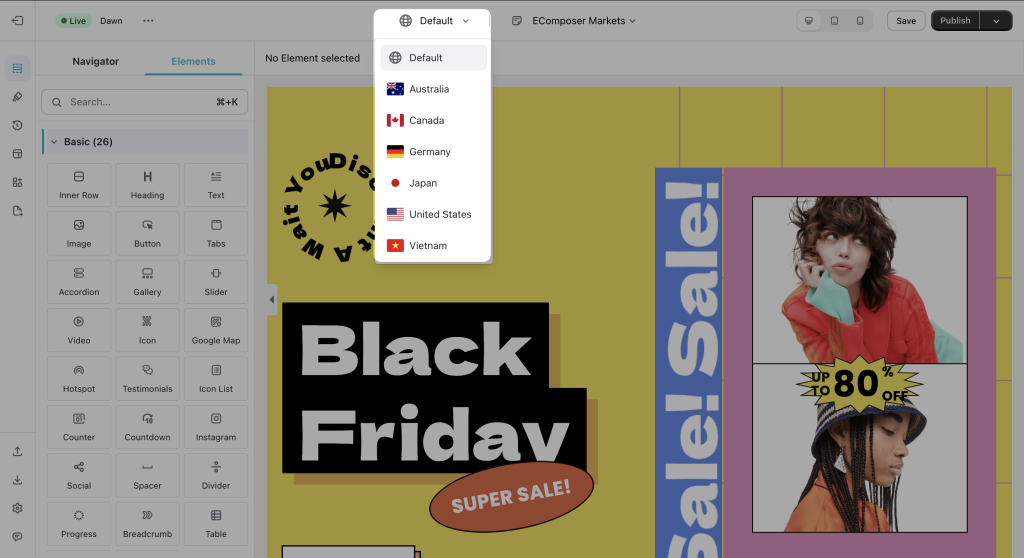 Note: EComposer Market Integration is only available in Pro and Premium plans.
Step 1. Create a market from Shopify
You need to create a market from Shopify first to make it show in the EComposer's editor
Step 2. Open/Customize the market from EComposer's editor
If you create new pages in EComposer, you need to save/publish it first (called Default page/template), then it will show other markets inside that page editor for you to customize.

If you open a saved/published page in EComposer, markets will be shown in that page editor as long as you created Markets in Shopify admin.
Whatever you choose, Shopify Markets automatically sets the right SEO tags, so your international buyers see the right domain in their search results. Visitors who navigate to the wrong domain can be automatically redirected to the right shopping experience based on their location. In instances where auto-redirects don't work as intended (like in the EU, where you aren't allowed to automatically redirect visitors), the Geolocation app can prompt customers to choose the correct market based on their location.