How To Create A Blog Template
The changes you can make to the Default Template for your Theme are limited. If you want to make more significant changes, however, and don't understand exactly how and where to code, EComposer builder is a fantastic choice. The question is, how does one go about doing this in EComposer? We'll demonstrate how much customization EComposer provides for your Blog Template.
On EComposer, there are two types of methods for a Blog Template. You have the option of using the Default Blog Template or creating a whole new one. It is easy to make your own Blog template design with EComposer. Let's step forward with us.
There are two ways to build a Blog page. You can stick with the Default Blog Template or Create a new one.
1. Edit default blog template (Built with EComposer)
By default, Shopify provides only one template for all Blogs of your store. This template will overwrite your current theme template and the changes you made will apply to all your Blogs Template.
In order to edit the layout for the Default Blog Template, please follow these steps:
From App dashboard -> Template

Navigate to Default Blog Template (Build with EComposer)
Start build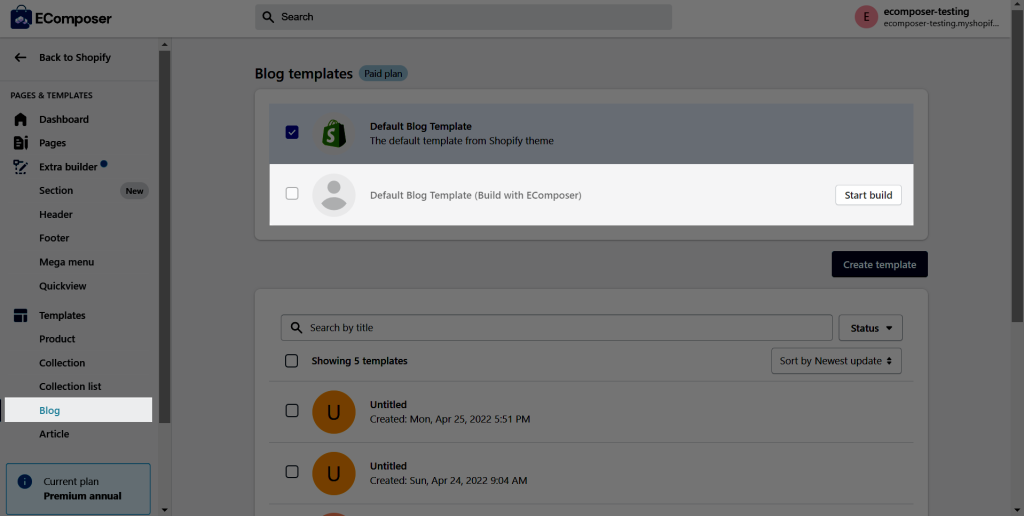 1.1 Building content with EComposer Elements
There are many ways for you to start building a Blog template: Quickstart with Template Library or Drag & Drop Elements.
For the first option to build, please click on "Explore Library" to get more suggested sections from EComposer. After that, you can choose which one you love, so click on "Insert now" to use that for your Blog template.
Following the second option here, you can design the blog template with your own idea by choosing a structure first and then dragging any elements such as Title/Articles Count/ Articles/Tags/… from the left-slider bar to configure.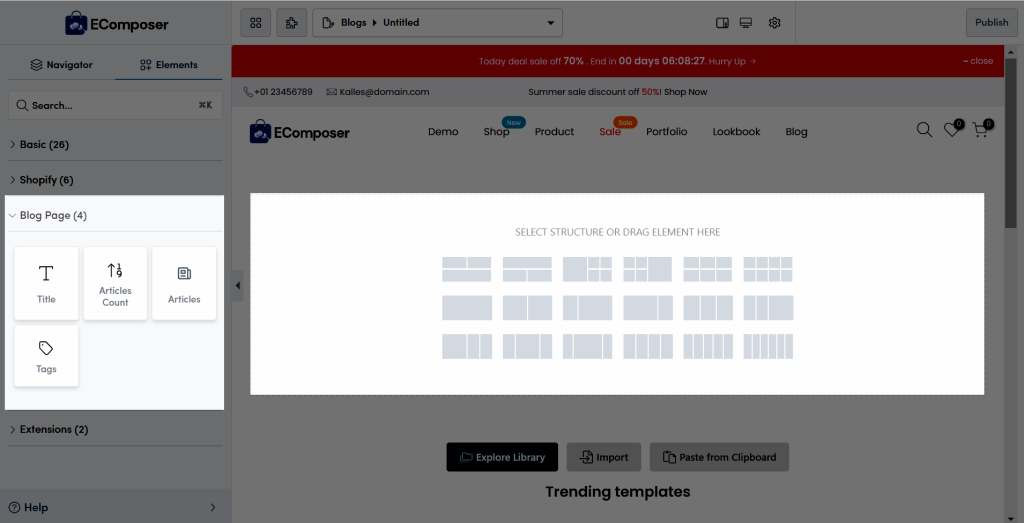 Title: You can show a blog title here.
Articles Count: This allows you to display the number of articles.
Articles: This element lets you present the details of the articles.
Tags: This element will help you view the tag for the purpose of letting the reader easily search for your articles.
Please click here to research more features about blog elements.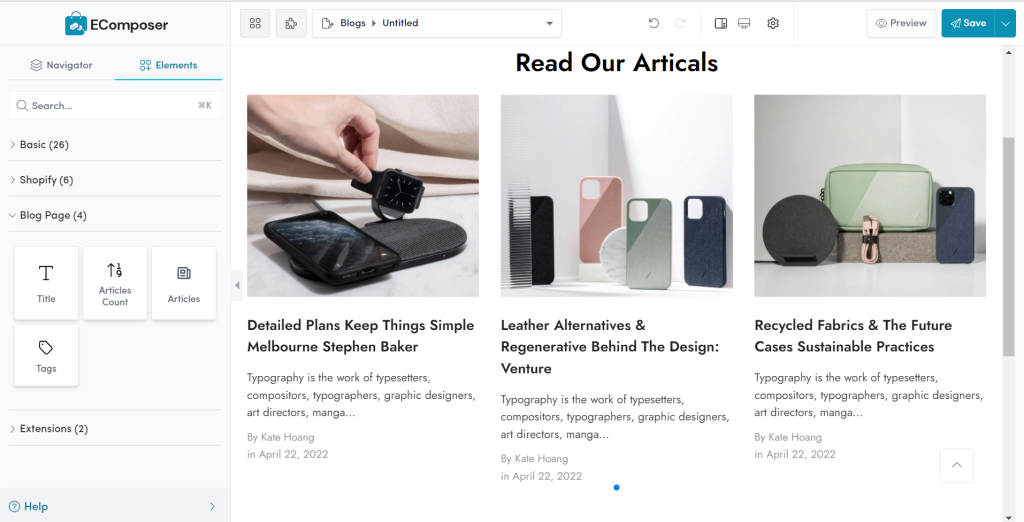 When you finish with the adding the elements stage, you may go to the "Save" button to set the template name, slug,…
1.2 How to restore the original Shopify Theme Template?
Somehow, you think the Default Blog Template brings you some inconvenience sections. Please go on

Templates –> Blog –> Default Blog Template –> Restore again

, those steps will help you get out of your unnecessary situation.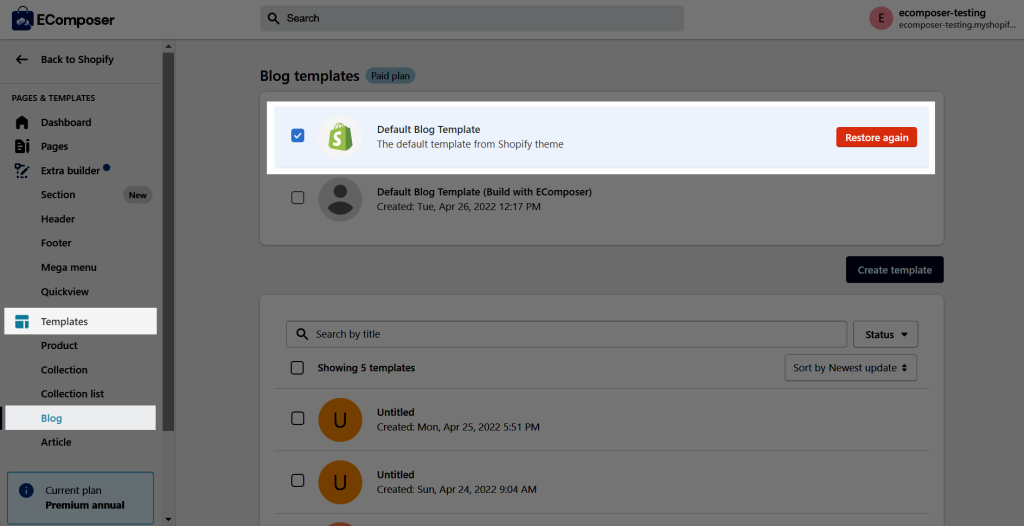 2. Create a Custom Template
2.1. Create a Custom Template
There are two ways for you to choose.
By creating a custom template, you can build your own brand new blog template without saving. Simply click from the dropdown menu and find the button named "Create new template". You can follow my video below:
Or you can make a brand new custom template in this easier way. Go on:

Template –> Blog –> Create template

. Please watch the description image below to get more details.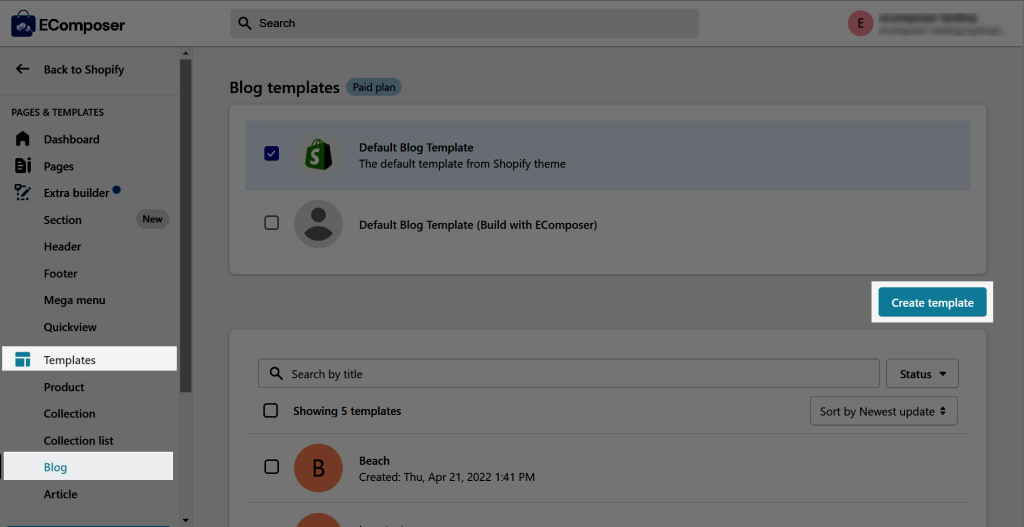 After you've finished designing, click the "Publish" button on the right-hand side. If you haven't wanted to publish, there are three choices for you:
Save as draft: You should choose when your BlogTemplate is uncompleted, save and continue config other times.
Save to library: You should choose when your Blog Template is completed, save and then use it next time.
Export as file: You should choose when your BlogTemplate is completed, export it as a file then you can save it on hardware and send it to others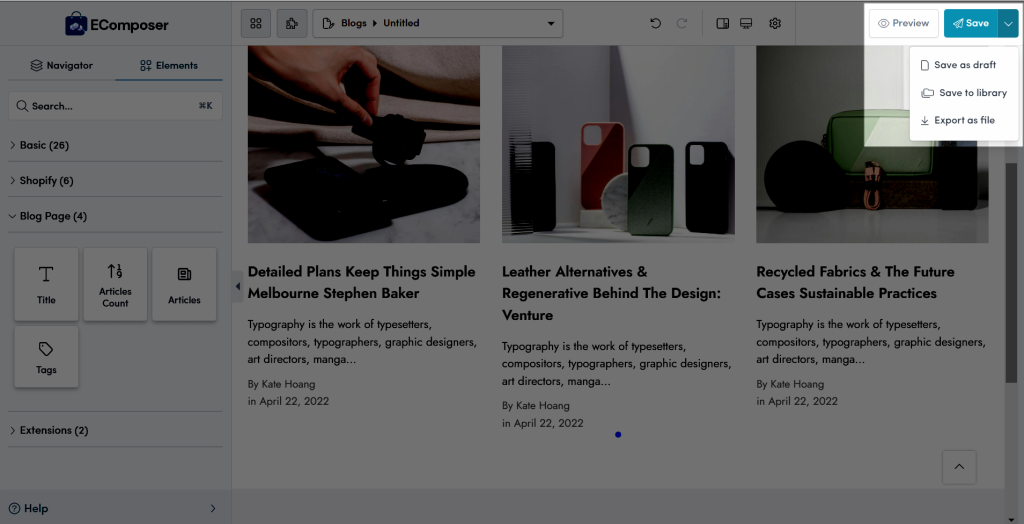 2.2 Template Settings – Assign Template To Certain Blogs
You might save time whilst also choosing a particular one of the structures that have already been designed on the template. You can also drag and drop Elements from the left sidebar to your template.
This template allows you to customize the Blog template to your liking. The Blog template contains the following elements:
You can connect together between Basic Element and Blog Page in the same Blog Template.
The general information setting board will be shown, then you can fill in the blanks such as:
Template name: put a name for this new blog template, as you can have multiple blog templates later.
Template Slug: while you text the template name, by the time the template slug is shown, it will be the same as what you've typed.
Apply for:

None (which means you apply for nowhere, just save it in your theme template)
Apply for all blogs (overwrite theme template)
Specific blogs (which means several blogs that you select after will be applied for)

Page layout:

Shopify theme ( Include header & footer of your published theme)
EComposer canvas ( Without theme header & footer)
Besides, you also can add custom CSS, and JS for your template there.
Note: Sometime third party apps maybe not working on EComposer canvas, Please contact the Live support to solve it
2.3. How to remove a Blog Template?
The first way: Quickly remove the Blog template, simply by a click from the dropdown menu. You can follow the video below:
Another quick way such as the video below. Go on:

Blog –> Hover on the template –> Click to Delete button
3. How to add flexible sections for the existing Blog template of the theme?
Note: Besides allowing to overwrite the default blog template for all blogs, create a custom template for some blogs. We also can add blog sections for the Shopify template default.
Please follow the below instructions.
From EComposer dashboard choose Extra builder -> Create section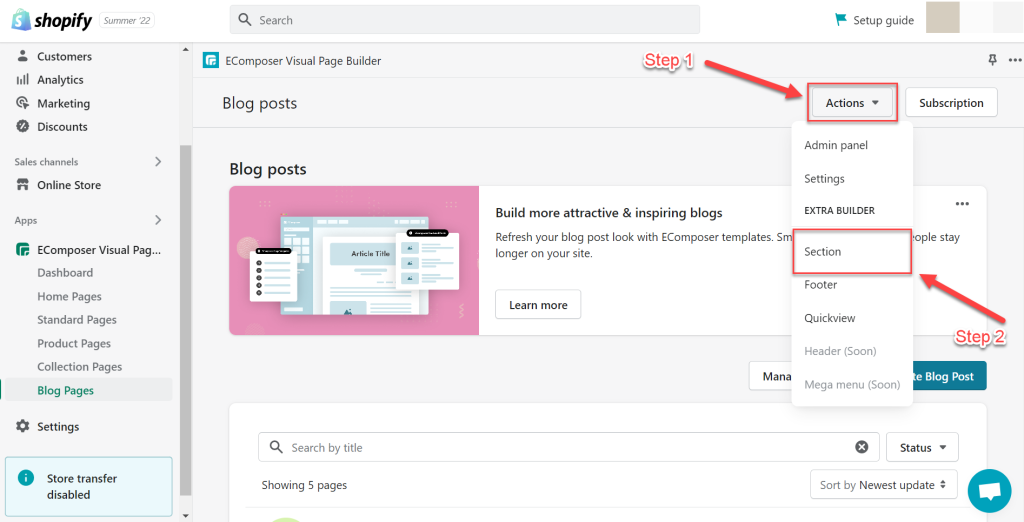 Design your section then click Save to save the section. Watch the video below to get more details.
Then, please go back to Shopify dashboard and click on Publish Theme -> Customize to add the section into the dproduct template from theme. Drag & drop the section to the position you wish then click Save.