Footer
Do you know what is a Footer? Let's go to find out with EComposer App.
A footer is a small chunk at the bottom of each page. It is frequently used to demonstrate business data or company information, or more than that, copyright details. In extremely long publications, the footer will also be used to clarify the present more detailed part of the file.
With some themes, the footer section is built quite simply and you cannot change the structure. Understanding this reason, EComposer has built this Footer part to help you build a more professional website. With EComposer you can drag and drop any element and design it the way you want.
1. Default Footer Template – Build With EComposer
1.1. Start building with EComposer App
Note: By default, Shopify provides only one template for all Footer of your store. This template will add the Footer to all of your pages.
In order to create the Footer for the Default Blog Template, you may view the App dashboard at first and then go on Footer –> Start building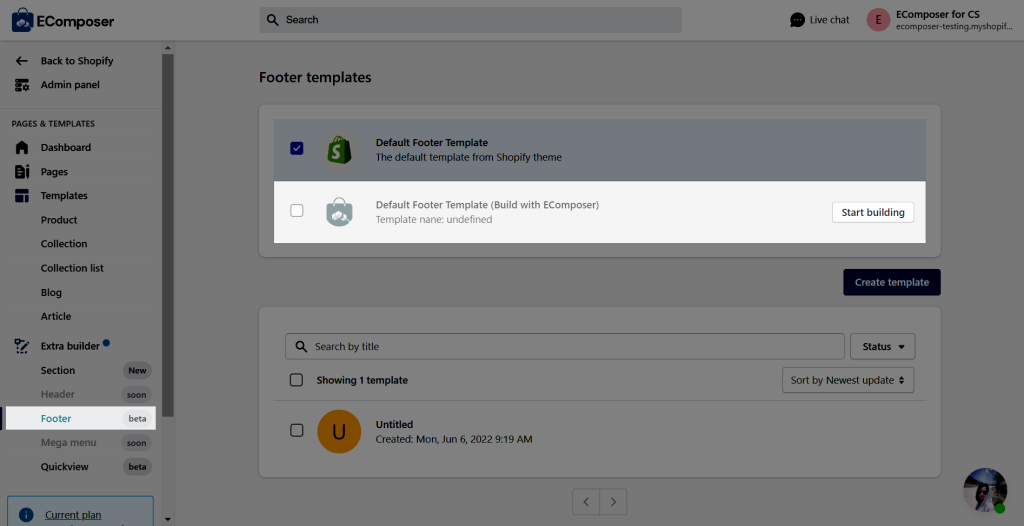 Please follow our guide below if you want to create a new footer or you can use our footer from EComposer App for your store as well. We will send to you lots of Footer templates, known as many example sections for you to get the one that belongs to your own.
Click into Explore Library.
Choose Sections and then choose the Extra Builder such as Footer from the left sidebar.
You may Insert now the Footer that you want to add from EComposer's suggested sections.
Or you can Drag and Drop any element to make a brand new footer one for your page.
After you are having the Footer that belongs to your store, you may go to Publish to set some of the General settings for your current page, known as:
Title: Put a name for this new Footer template, this will help you to compare between multiple Footer later.
Header slug: While you text the Footer template name, by the time the Header slug is shown, it will be the same as what you've typed.
Make as default footer: When you want every single page to have this Footer template, please go to this button and click on the check box. This means you agree to let this Footer be shown on each page that you have.
After filling in all the things that the settings board request, you can go on Save & Publish to keep it for your store at the end.
1.2. How to restore the original Shopify Theme Template?
Somehow, you think the Default Footer Template brings you some inconvenience sections. Please go on

Footer –> Default Footer Template –> Restore again

, those steps will help you get out of your unnecessary situation.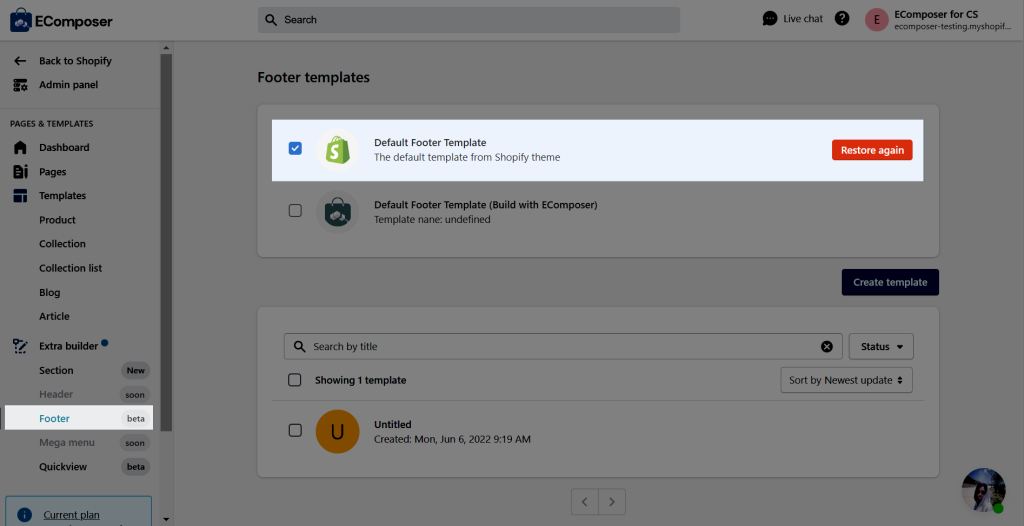 2. Create A Custom Footer Template
Are you wondering about what is custom Footer template? and also how to create that.
A custom Footer template let you make the new template that belongs to your own, no need to apply it for any pages at the moment. After you make that, you can save it in your library, or don't need to click on Make as the default footer. So let's start to make an impressive one with us.
2.1. Start to build a custom Footer
There are two ways for you to choose.
By creating a custom template, you can build your own brand new Footer template without saving. Simply click from the dropdown menu and find the button named "Create new template". You can follow my video below:
Or you can make a brand new custom template in this easier way. Go on:

Footer –> Create a template

. Please watch the description image below to get more details.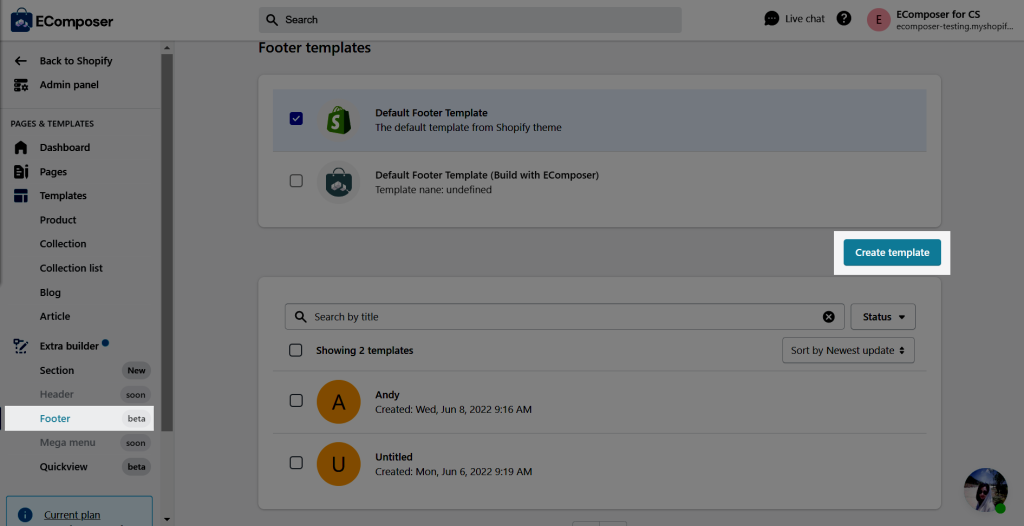 2.2. Save Footer Template In Your Store Library
If some of the seasons you want to change the Footer for your store, right? So you can save it in your store library to change or fix, or even insert it whenever you think that's good. Let's watch the video below to get more details about how to do it with EComposer.
2.3. Assign Footer Template To Certain Page
When you want to apply the Footer template that you created without using it before, please go on Explore Library –> My template –> Get the one that you want.
2.4. How to remove/delete a Footer template
The first way: Quickly remove the Footer template, simply by a click from the dropdown menu. You can follow the video below:
Another quick way such as the image below. Go on: Footer –> Hover on the template –> Click to Remove button