Frequently Bought Together
The Frequently Bought Together extension will help you choose to display products that are often purchased with the same main product. You can select the products in a fixed way, or display the products related to the main product through the metafield. This strategy is used to promote customers to buy more products.
For example, the main product on your product page is a T-shirt, so you can add a Jean or Shoes to buy together.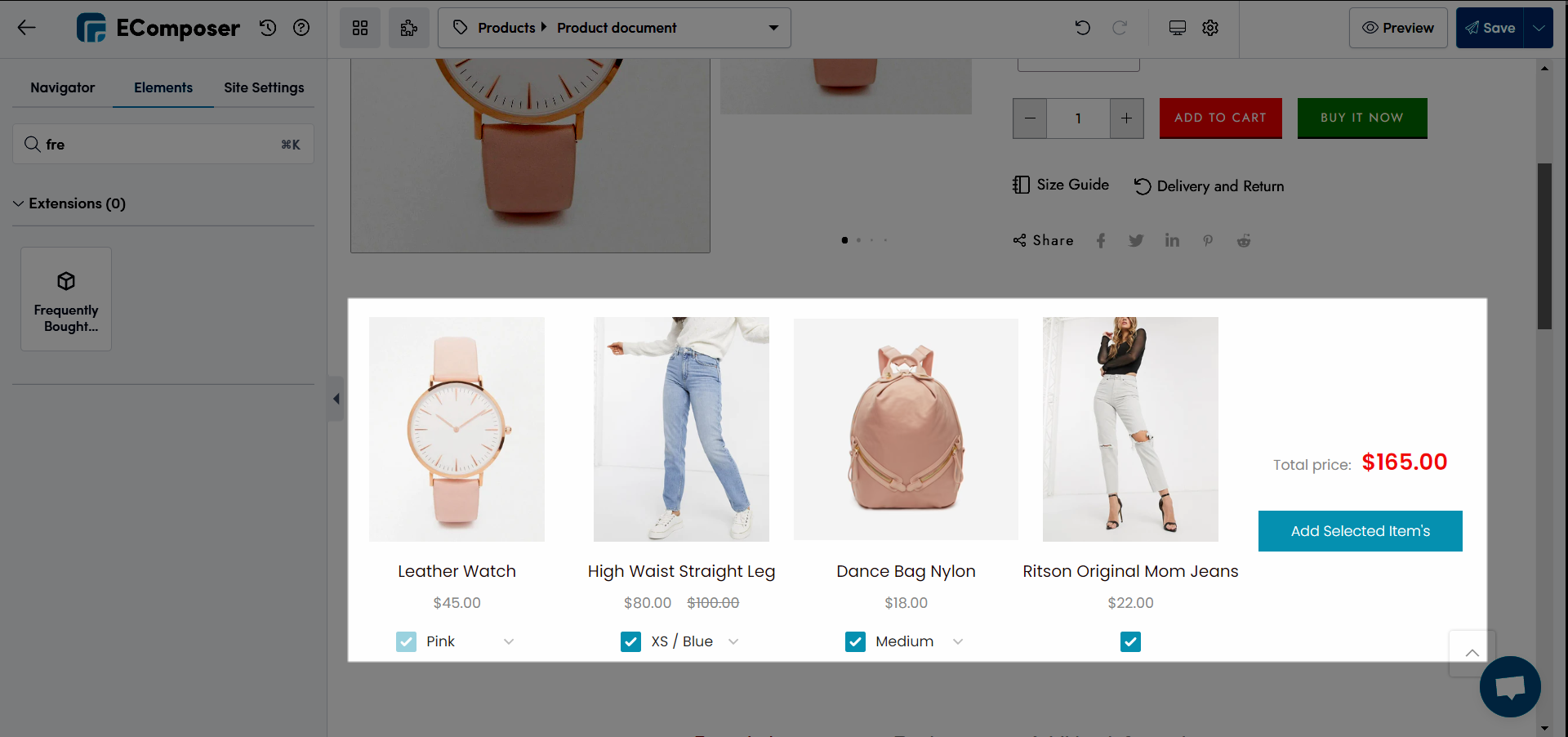 1. Install Frequently Bought Together extension
There are two ways to install the extension:
Click on the Extension icon at the top left corner.
Under the Extension tab, click Add more.
On the Extension popup, you can see the Frequently Bought Together extension, click Install now to install it to your Extensions.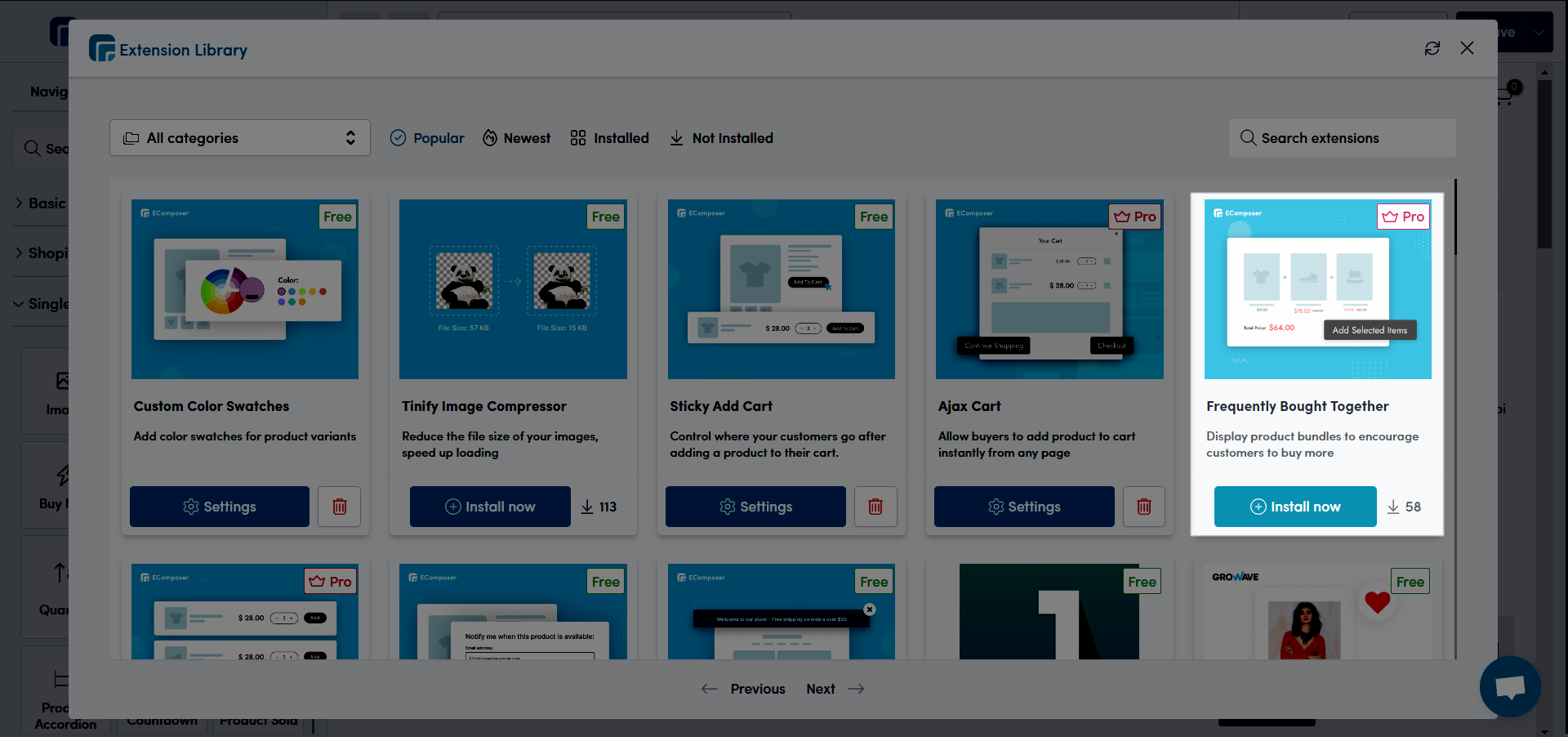 After installing the extension, the "EComposer product bundle" will be added to Shopify. To see it, please go to Shopify admin -> Settings -> Metafield -> Products.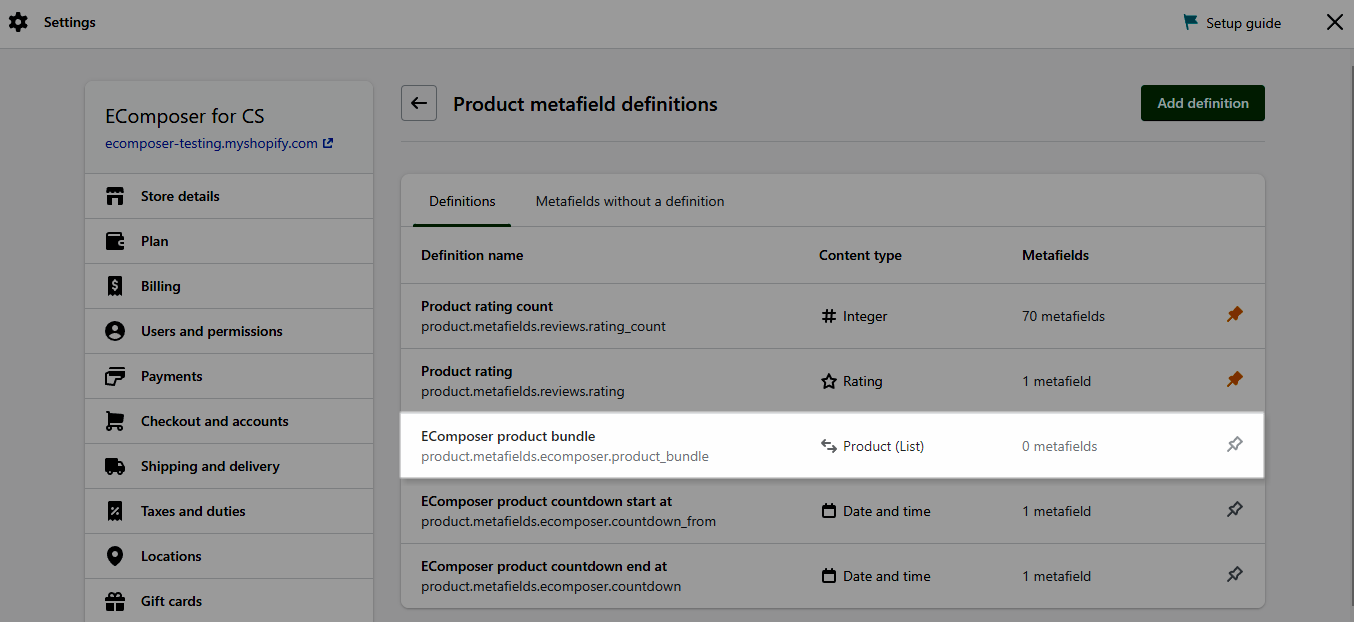 2. How to configure Frequently Bought Together using Metafield
In the Product page, please scroll down to the bottom of the page > Metafield option then click "Show All" button you will see the EComposer product bundle option to add the product list for Frequently Bought Together feature. Kindly follow the video below:
3. How to configure the Frequently Bought Together extension
3.1 Content
You can Select the product here. You can also change the Add to cart button with Layout type and Button Animation.
Note: If you select products for EComposer product bundle, they will show as a priority. If not, it will show the products that you pick to the extension in EComposer.

If you use a product template to all products, you should select the products for the metafiel in Shopify.
3.2 Design
In the Design tab we have a lot of settings for you to customize.
General: You can change the background and more of the extension here.
Items box: Changing this will affect the products in the items box.
Product image/Title/Price: This is self explanatory and all of the settings inside are all documented here.
Checkbox: This is the checkbox beside the variant select, the settings are covered here.
Variant select: This is where you choose the variant for the product, the settings are covered here.
Button: This is the Button to add the selected items, the settings are covered here.
Total text/Price: This affect the text before the total price and the total price itself, the settings are covered here.
3.2 Advanced
This tabs have been very well documented here.