Air Reviews
The Air Reviews app will help you build customer trust and boost sales with social proof, photo reviews, and SEO, which have now been integrated into EComposer as extensions for ease of access.
Integrations cases:
Air Review Summary
Air Review Box
Air Review Carousel Widget
1. How to install Air Review extension?

After installed the app on Shopify, please go back to the extension in EComposer App to open the Extension popup, there are two options for you to open it such as:
– Click on the Extension icon at the top left corner.
– Under the Extension tab, click Add more.
In the last stage that we have to do to complete all the adding steps, now you can search for Air Review and click on the "Install now" button to install it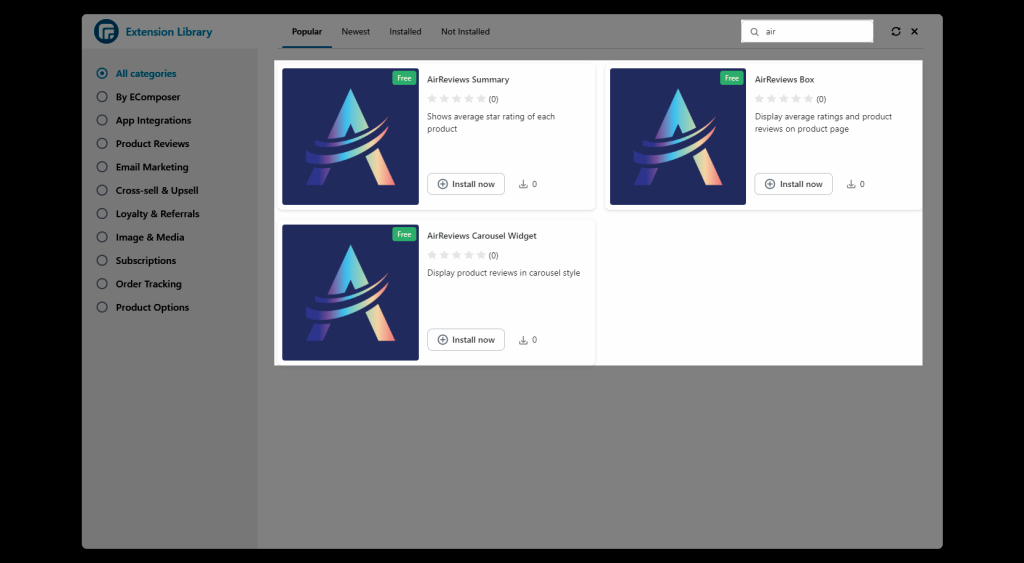 2. How to add the Air Reviews extensions into EComposer?
Notice: These reviews extension will only work on the live page.

– The Air Review Summary will only work on the Product template and Collection template.

– The Air Review Box will only work on the Product template.
First, you will go to Extension to find the Air Review extensions.
In the second step, you need to Drag and Drop the extension anywhere that you expect it to be.
After, you will have to click on Save and Save & Publish it.
The last thing that you have to do is click on the "View" button on the page then you will see the review form, also the testing review that you made.
In the end, we can view our results from the instance that we created together for the product page.