Growave: Loyalty, Wishlist +3
As you are informed, a large percentage of our stories require the use of an app to demonstrate positive characteristics, such as excellent customer experiences. By installing and downloading the app, you can link the Growave Review Average Rating extension to your retail shop and show the correct standard value based on reviewed files. Furthermore, the Growave Reviews Widget extension will provide you with a feedback report, allowing your client to easily leave a positive experience. Followed with more fun extensions such as Growave Reviews Slider, Wishlist Button, Instagram Widget, and Earn Points Widget.
So what are we waiting for? Let's step forward to see more clearly how it works and what exactly the app will bring to you with EComposer App.
1. How to install the Growave Extension?
To use this extension, please install the Growave app from your SHopify store first.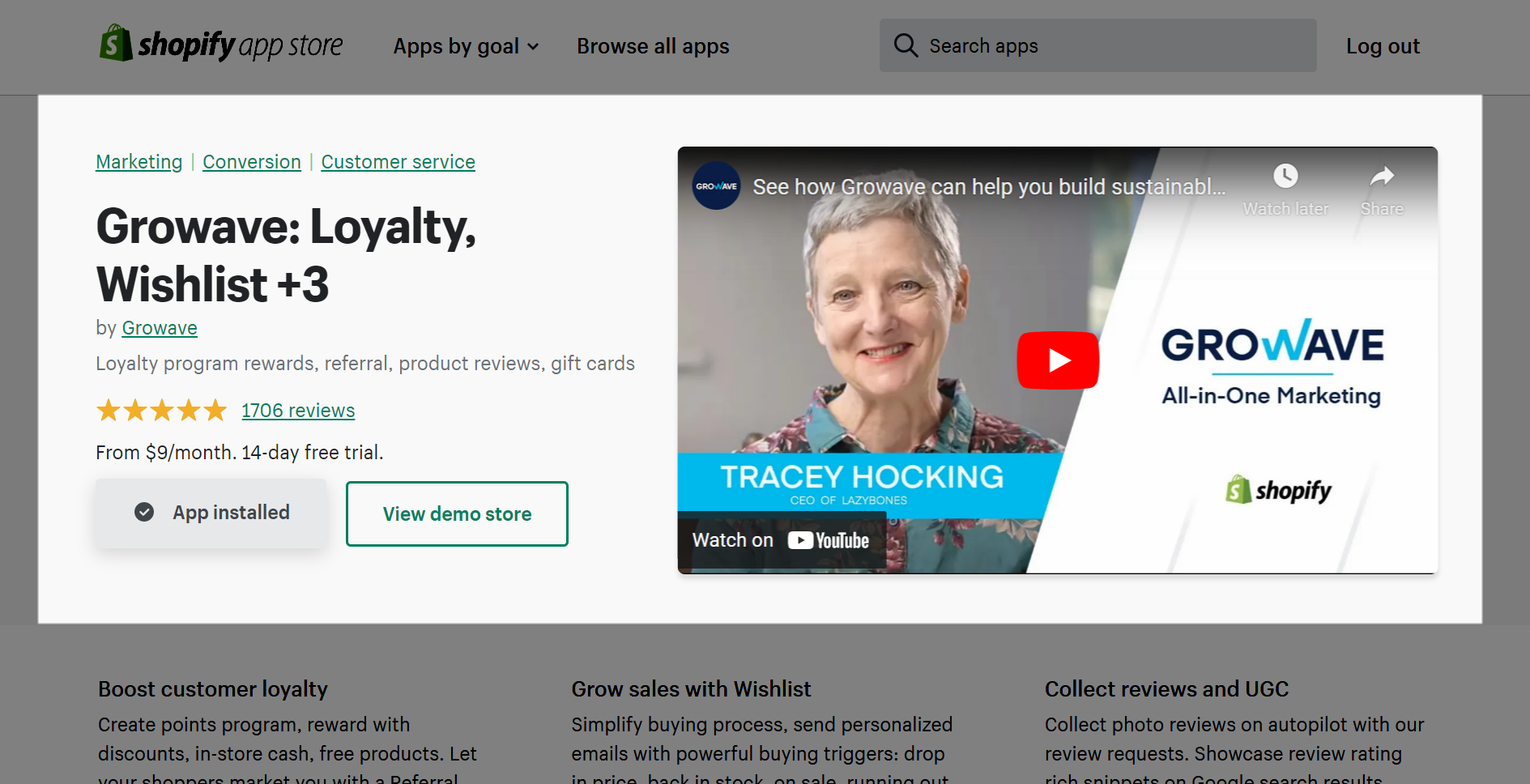 After downloading the app on Shopify, please go back to the extension in EComposer App to open the Extension popup, there are two options for you to open it such as:
Click on the Extension icon at the top left corner.
Under the Extension tab, click Add more.
In the last stage that we have to do to complete all the adding steps, now you can search the Growave extension –> click on the "Install now" button to install it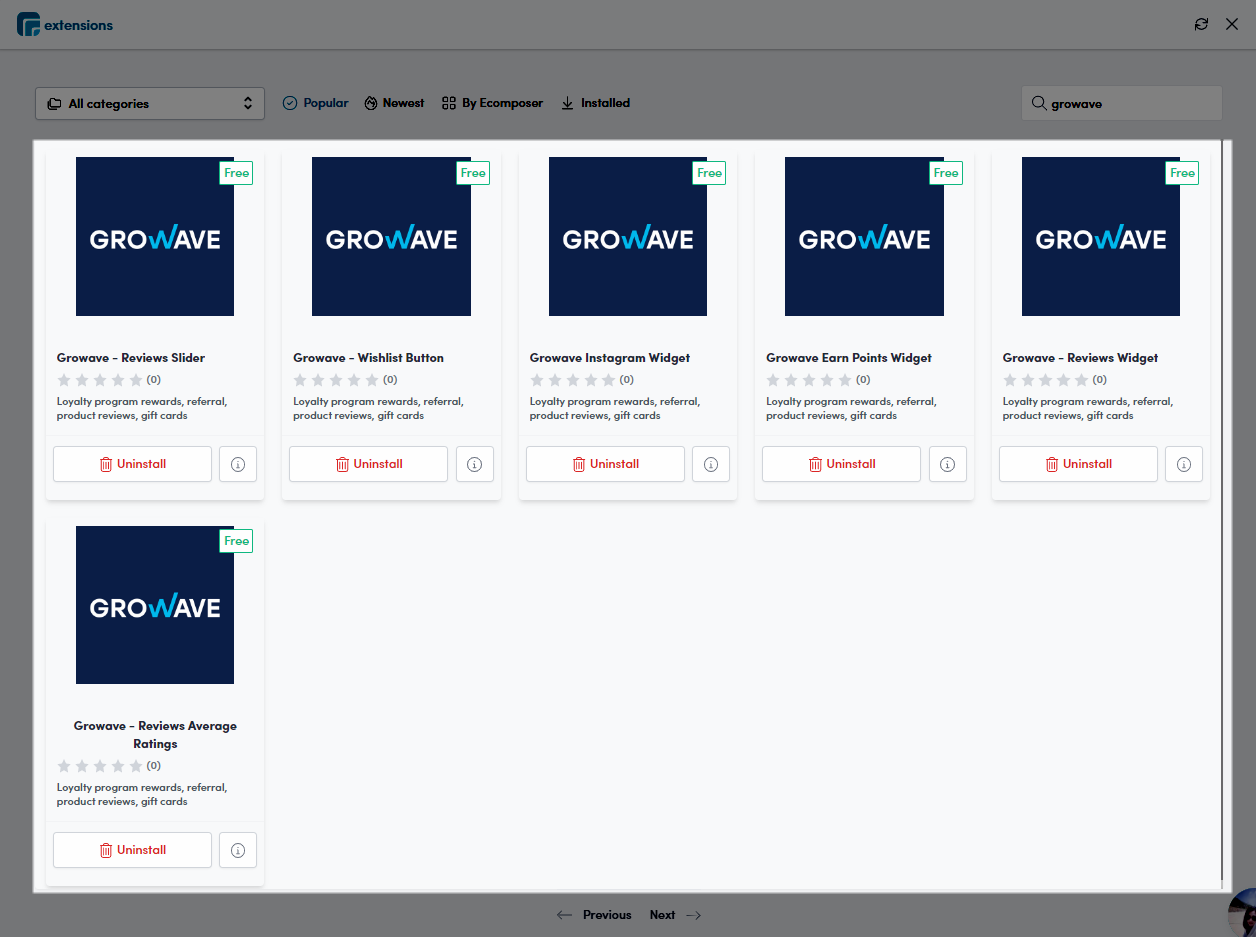 2. How to add Growave extension into EComposer App?
Now we will come to add the extension to the template that we are creating in EComposer App. But before we move to add stages, we will figure out more details about the Growave extension to make it a bit more clear about those functions.
Loyalty & Rewards: strengthen the customer-brand relationships, increase repeat purchases, and boost engagement using convertible loyalty points, gifts & VIP-tiers membership on your site. Use a loyalty program offline with Shopify POS.

Reward with points and discounts for sharing your store and following your social media pages.
Increase engagement with nudges and points expiration reminders.
Grow sales with Gift Cards.
Referral program: grow your community by rewarding them for sharing on social media, email, and referring their friends.
Reviews: collect more photo reviews, product reviews, and site(brand) testimonials on autopilot, drive more shoppers to your site through search and social. Build trust with visual product reviews, and Q&A, and boost sales via UGC. Automated, customizable, and personalized review request emails to collect verified photo reviews.
Wishlist: let customers save their favorite products to their wishlist with easy access. Reduce shopping cart abandonment, order recovery, and send buying trigger emails when the wished products are:

Saved in wishlist
On sale
Back in stock
Running out of stock
Social Login: simplify account registration, enable one-click login through Facebook, Google, Line, Twitter, Yahoo, Tumblr, and Amazon accounts, or by email.
Instagram: shop Instagram feed and UGC. Turn your Instagram and user-generated content into shoppable galleries and boost sales by allowing your customers to shop directly from an Instafeed.
Notice: This feature only work on the live page
First, you will go to Extensions to find the Growave extension.
In the second step, you need to Drag and Drop the extension anywhere that you expect it to be.
You have to go to Save and Save & Publish it.
The last thing that you have to do is click on the "View" button on the page then you will see the review form, also the testing review that you made.
In the end, we can view our results from the instance that we made together.