App Settings
How much do you know about App Settings? Let's find out what App Settings can assist you in customizing your theme!
You can find various of intergated apps such as Product Reviews, Product Quickview or Product Wishlist in App Settings, connect your store with your Social Account. Or even, if you are a developer or just have some knowledges about coding, App Settings provide a section for you to customize your frontstore with code editing.
1. Apps use frequently
1.1 Intergrated apps
Product reviews app: All Product Review apps which are supported by Ecomposer, are shown here. There are options to choose a specific app or "Don't use".
Product wishlist app: List of Product wishlist apps that can be intergrated to your pages display here, the number of apps supported will be updated so don't forget to check regularly.
Product quickview app: You can find third party quickview apps in App Settings and install for your page with a blink of an eye.
1.2 Social Connection
Instagram: You can connect your social media account via this function to show your feeds on the frontstore. More supported Social Networks are comming!
Once connected, EComposer will display the images from your Instagram. You can insert Instagram element to your pages and edit how it looks through available settings.
2. Custom Js & Css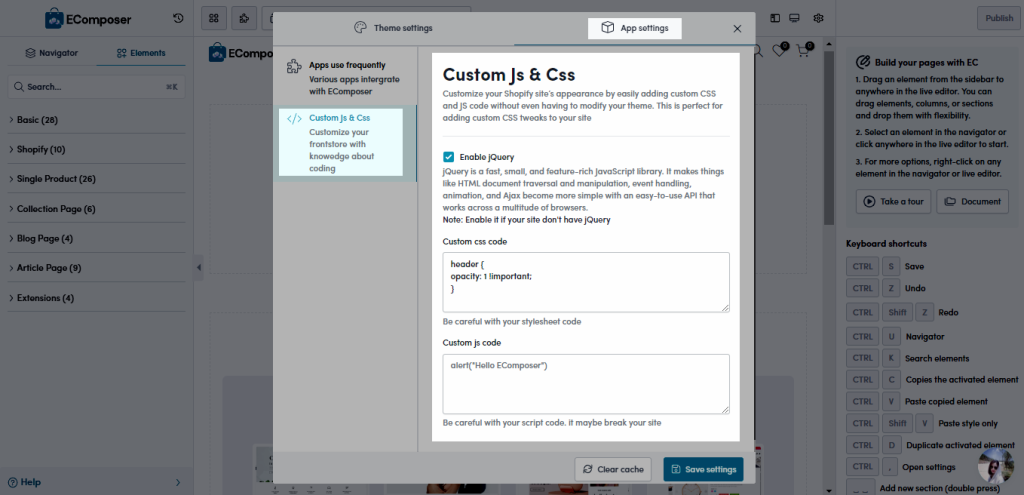 Enable jQuery: This section for Shopify Experts or Developers. However, if you ever found, for instance, a slider function doesn't work properly, you would check this option. We suggest jQuery should be Enabled all the time.
Custom css code: where you can safely add extra CSS to the layout which overwrites the CSS of the main stylesheet file, so that you can apply some CSS to change the look of the site as you desire. Also, this changes will still remain even if you update, publish the layout.
Custom js code: You can edit JavaScript code here if you have a basic understanding of Shopify's Liquid. It is possible for you to be the boss of the Layouts since you can completely change it from the root. Nevertheless, be careful with your script code, it may break your site.
Example of how to use "Custom css code"