Estimate Shipping
The element called "Estimate Shipping" in EComposer refers to the process of calculating the cost of shipping a package or item from one location to another.
To obtain an estimate, you usually need to provide information such as the origin and destination addresses, package dimensions, weight, and so on.
1. Add Estimate Shipping Element
Changing the Shipping Information in Shopify's Shipping and Delivery
Drag/Drop the Estimate Shipping element in EComposer.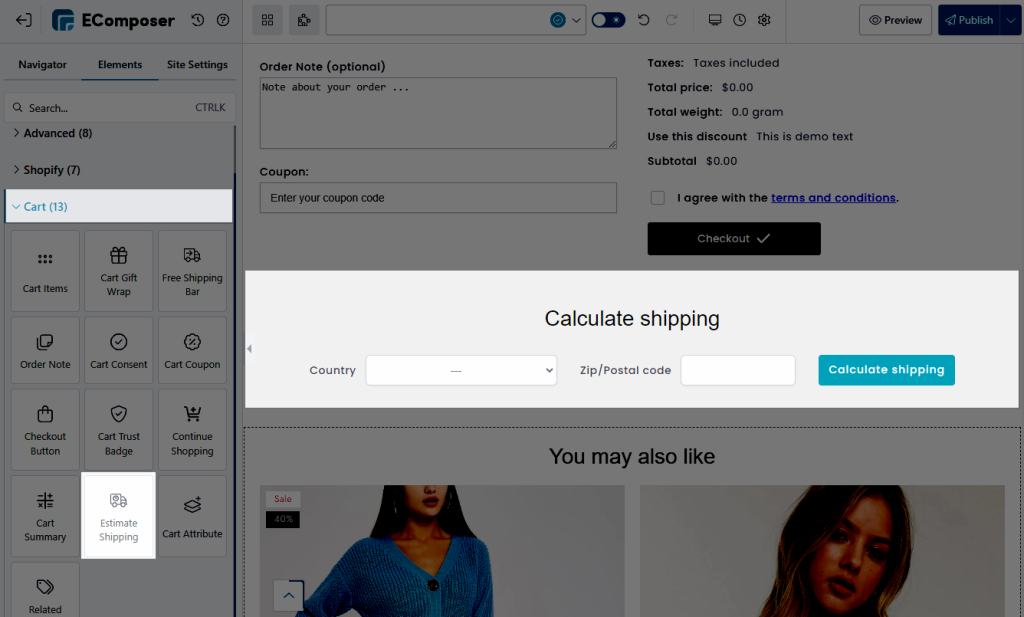 General content setting: You must change the desired content in the General setting. For example, the information for each box includes labels for the Submit button, Calculating button, Country text, Province text, Zip/Postal code, and other buttons.
Gap: The gap from each box in the Estimate Shipping element can be increased or decreased.
2. How to configure an Order Note Element
General: By changing the options for Alignment, Background, Box Shadow, Border, and Border Radius, you can change this element's primary setting.
Label/ Price text: With the options for Typography, Text colour, Text gradient, and Text shadow, you might change this element's key setting.
Location select/ Input box/ Button: You can change most of the settings, including the Width, Height, Text alignment, Typography, Colour, Normal setting, and Focus effect, using this option.
Invalid zip-postal text/ Calculated shipping rate text: With this option, you may change the default settings for the Typography, Text colour, Text gradient, and Text shadow.
Here is the outcome after having chosen the Estimate Shipping Element option: