Description
What do you know about Description? Let's find it out with EComposer App.
A description allows you to introduce more details about the product that you are going to sell, such as where it comes from or the price of each type. You may also know what kind of material the product is made of. If you would like to read more about it, kindly follow the directions below.
Note: In the EComposer App, you can't directly edit the Description Content. It is the description of product that you add to Shopify. You can go to edit your product in Shopify admin to edit the description.
1. Adding Description
Click into Elements –> Single Product –> Description
Drag the Description element from the left sidebar and Drop it wherever you want it to stay.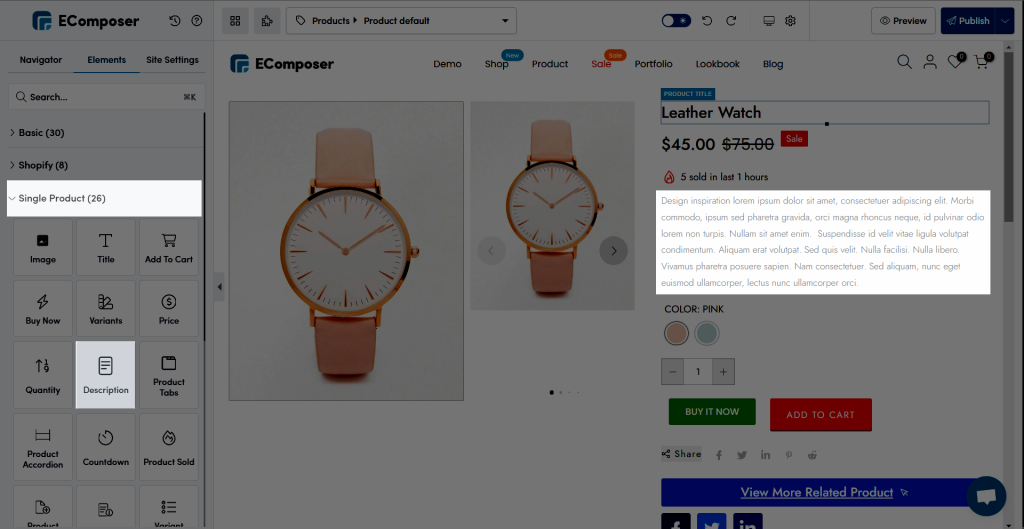 2. Configure Description
2.1. Content
Preview
This feature allows you to Select the Product at this function and lets you view what it will look like.
Description
Content-Type:

You may choose HTML: In Shopify, you can format and style your description by using a rich text editor. When using the rich text editor, HTML tags will be added to the content. To examine the HTML document or something like the content from inside the editor, click the Show HTML button. Please follow the steps below to update how to change the description.
Go on Shopify Admin
Click on the Product to choose what kind of thing that you want to edit.
Find the Product that you would like to change and add the Description.
Following the arrow and click on the button to view HTML page.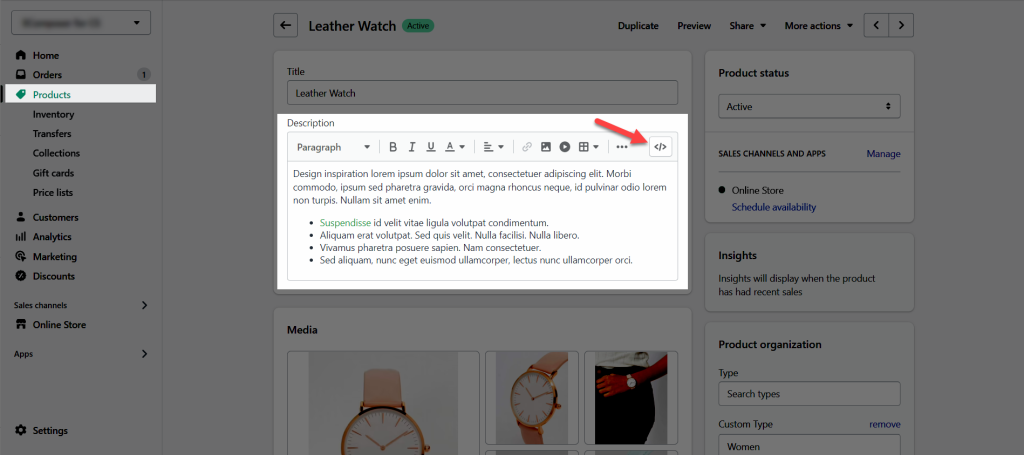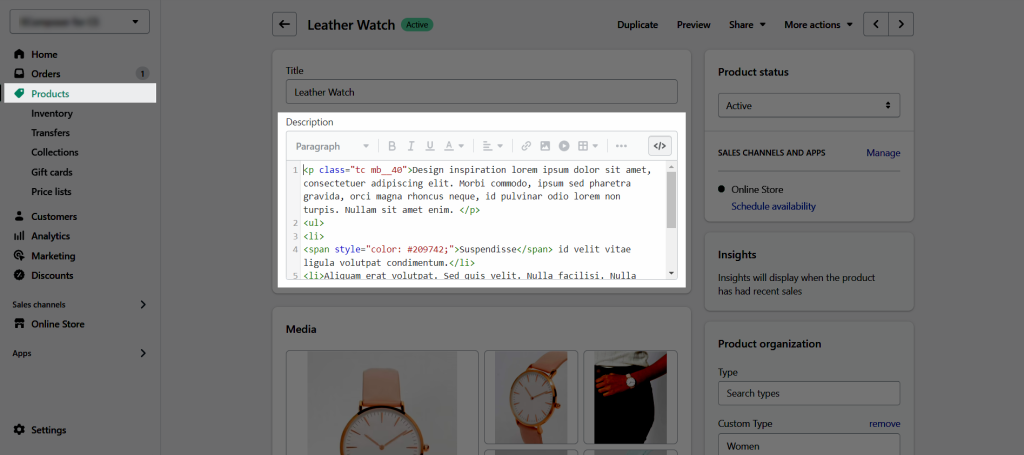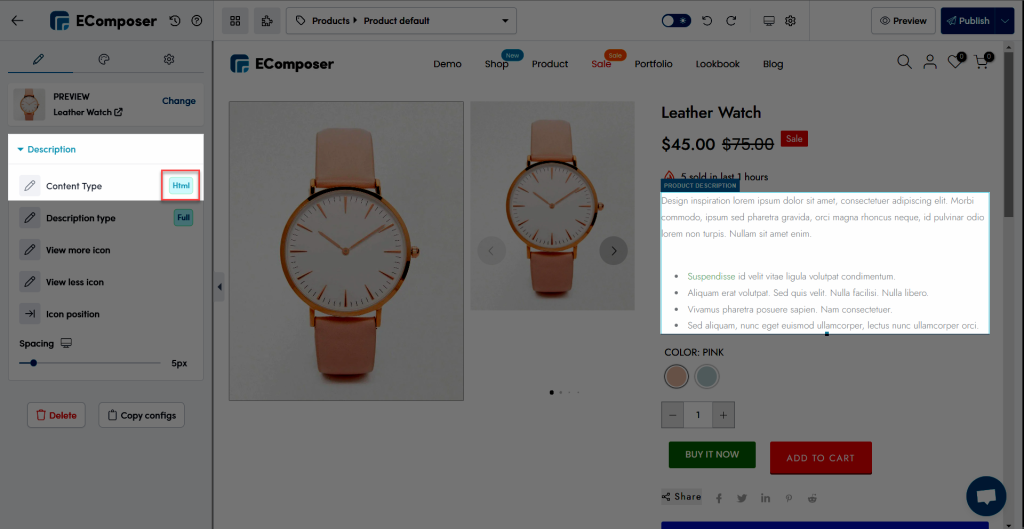 Content-Type

You may choose Text: All HTML tags in the Product Description have been removed. The Text type is used to create the description section in this example.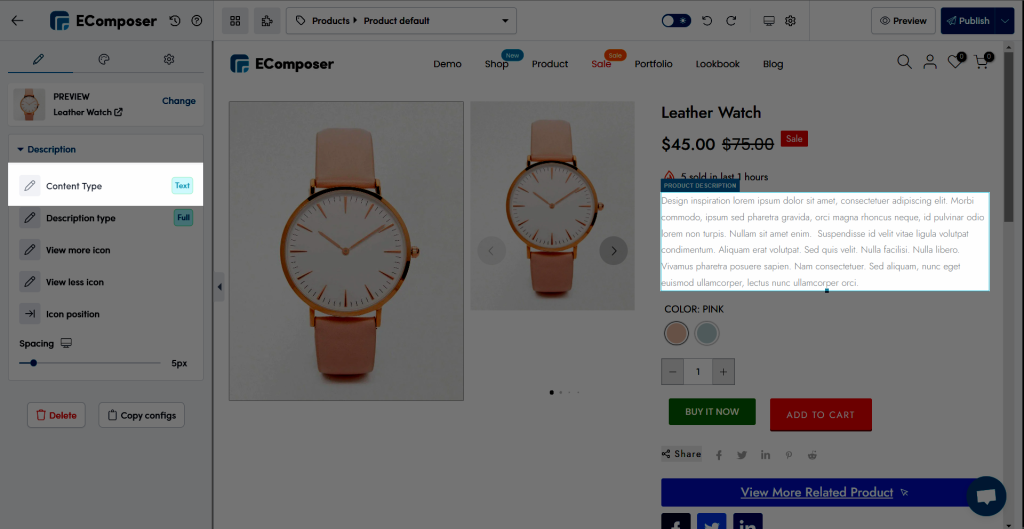 Description Type: You can set the description how to show like all Full view Description or Short view Description.
Maximum words to show: This allows you to change the number of the words that will be shown on the Product Description.
The feature without saying which is the Show view more icon, the Icon position, including Spacing, View more text button, and View less text button. In the end, you can view full of the guidance video from us below.
2.2. Design
You may create a new style design that belongs to your own with a bunch of features below, to make your Product Description look more colorful.
Description: You may set up the Alignment, Typography, Text Color, and Text Shadow for the text.
View more/ View less/ Icon: Also you can change some of the useful structures like Alignment Typography, Text Shadow, Box Shadow, and some of the functions when you choose the Normal button or Hover.