Section Builder
This is a wonderful feature of the EComposer app, it will provide users with a variety of interesting experiences while also saving them as much time as possible. Users can use this feature to create a section following their choice, and then insert it into the Shopify theme.
Note: You can only insert sections from EComposer to between the sections of your pages in Shopify, not to a section. Also, this will only work with Shopify 2.0 themes.

This feature is available on the paid plans only.
1. Create a section in the Shopify section option
There are two ways for you to create a Section:
You can flexibly add elements such as Heading, Icon List, GG Map, or more for your Section (For experienced people)
You may try the example Sections layout from our app by clicking on Explore Library/ Template Library and choosing Section. After that, you can change the information that belongs to your store (For someone new to creating)
2. Insert the section into the Shopify theme
After you create the section, it will be saved here: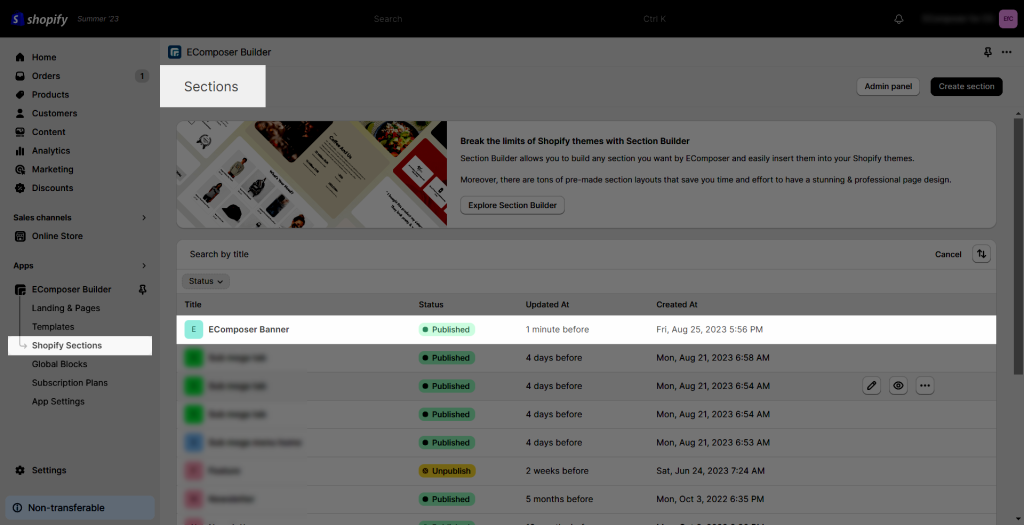 You can follow the video below to learn how to add a section to the Shopify theme​. The same steps with all Shopify pages.
Note: If you want to insert sections from EComposer to other pages in Shopify, you can do the same way on the Homepage. Just open the page that you want in Shopify theme editor and find the Add section option.